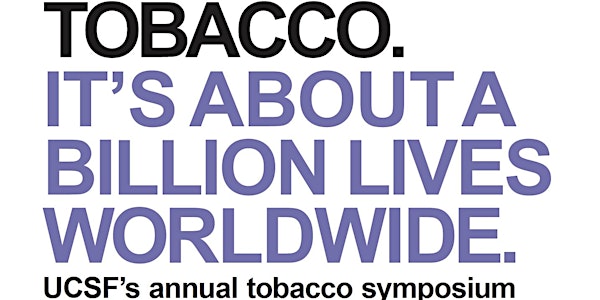 "It's About a Billion Lives" Annual Symposium on Tobacco Control
The UCSF Center for Tobacco Control Research and Education (CTCRE) is excited to announce our stellar lineup of featured speakers for our "It's About a Billion Lives" Symposium which will be held on Thursday, January 26, 2023 from 8:00am-12:30pm
Keynote Panel: 20 Years of the Industry Documents: Past, Present and Future:
Stanton A. Glantz, PhD, Professor of Medicine (Retired)
Micah Berman, JD, Associate Professor of Public Health and Law, Ohio State University's College of Public Health and Michael E. Moritz College of Law
Mignonne C. Guy, PhD, Associate Professor and Chair, Virginia Commonwealth University Department of African American Studies
Kate Tasker, MLIS, UCSF Industry Documents Library Managing Archivist
Moderator: Dr. Cheryl Healton, Professor of Professor of Public Health Policy and Management and Founding Dean, NYU School of Global Public Health
Presentations by Faculty and Postdoctoral Scholars:
"Unequal risk for tobacco-related stroke in Black adults," Jelena Mustra Rakic, PhD, Postdoctoral Scholar, UCSF Center for Tobacco Control Research and Education
"Industry Influence Over Scientific Information on Breast Cancer: Exploring the UCSF Industry Documents Library," Cristin Kearns, DDS, MBA, Assistant Professor, UCSF Department of Preventive and Restorative Dental Sciences
"Tobacco Cessation in Substance Use Treatment: Research & Policy Efforts to Reduce Tobacco-Related Health Inequity," Caravella McCuistian, PhD, Clinical Psychologist and Assistant Professor, UCSF Department of Psychiatry
"Tobacco Industry documents: how looking through the keyhole contributed to tobacco control in Brazil," Andre Luiz Oliveira da Silva, PhD, Postdoctoral Scholar, UCSF Center for Tobacco Control Research and Education
Closing Remarks, Chris Shaffer, MS, UCSF Assistant Vice Chancellor and University Librarian
FREE credit can be earned for a limited amount of participants, who join the LIVE session in-person or virtually, on Thursday, January 26, 2023. You will receive instructions on how to claim credit via the post webinar email.
This event is co-presented by the UCSF Helen Diller Family Comprehensive Cancer Center, UCSF Smoking Cessation Leadership Center (SCLC), and the UCSF Multiethnic Health Equity Research Center.