How to Be Welcoming to Younger LGBTQI2+ Humans
October 13, 2022 @ 2:30 pm

-

4:30 pm

Free
How to Be Welcoming to Younger LGBTQI2+ Humans
Join national speaker, diversity consultant and author Ellen "Ellie" Krug as she shares what it means to be a part of the "Alphabet".
About this event
In the last two decades, many people have become far more willing to act as allies for people who identify as lesbian (L), gay (G), bisexual (B) or transgender (T). Often, however, there's also a "Q" in the LGBTQ alphabet; that stands for both "questioning" (e.g., "I'm not sure where I am on the alphabet, if anywhere…) or "queer" ("I'm just me, whatever that means to you…").
On top of those letters, the "I" stands for "intersex," the "2" represents "Two Spirit" (to encompass humans representing both the masculine and feminine spirits within the Native and Indigenous communities), and the "+" encompasses all other identities that humans might have.
Underlying all of this is the idea that humans—however they may identify—have the right to live their lives honestly and with authenticity. This is particularly true for younger humans who, in 2022, hear daily messages about how they're unworthy of legal protections or even basic respect.
What does it mean to be welcoming to younger LGBTQI2+ humans? What actions or words should professionals working with youth avoid? How does the absence of legal rights in many states play into a younger "Alphabet person's" daily life?
Ellie offers tips and advice on how to be inclusive toward anyone who so identifies, particularly younger persons. Come with questions!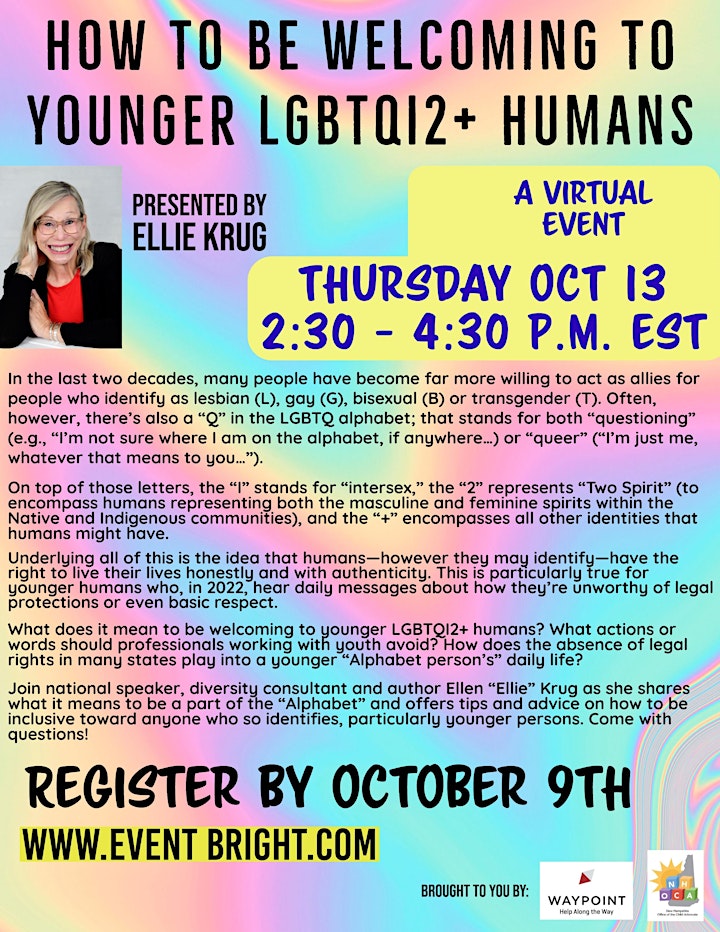 Related Events

Note: The events contained in this calendar are subject to change without notice by their respective organizers. Refer to each event's website for updates.